Description du produit
Échantillon gratuit Eva Slipper machine de découpe de col de chemise
Aperçu:
Notre production de machine de découpe automatique est une découpe de tissu intelligente, dont le dispositif est résolu avec succès la découpe traditionnelle (ciseaux à main, tondeuses électriques) les travailleurs de haute technologie réduisant les coûts, les déchets de matériaux, les caractéristiques de faible productivité.
Nos principaux produits comprennent une machine de découpe numérique intelligente et une machine de découpe intelligente pour matériaux flexibles, une machine de découpe de tissu et de cuir, une machine de découpe composite de haute technologie. La découpeuse à couteaux CNC Aoyoo est largement utilisée dans les vêtements, l'intérieur de la voiture, le canapé en tissu, le tapis, les chaussures, textile, publicité, emballage, métal et autres industries.

Configuration:
Lit : utilisant la technologie de traitement de soudage sans soudure
Surface de la table : erreur globale de traitement de la planéité du traitement de la surface de fraisage en PVC dans les ± 0,1 mm
Chemin de fer : chemin de fer CSK
Tête de couteau : couteau vibrant à haute fréquence Lame : lame de coupe importée
Panneau : avec un panneau de commande indépendant, vous pouvez insérer un disque U pour travailler hors ligne
Système de transmission : entraînement par courroie
Optionnel
Pinceau : marquez le matériau de traitement, marquez le numéro de série de traitement et le modèle de voiture traité
Couteau de poinçonnage : pré-perforer des trous en fonction de l'utilisation industrielle requise, réduire les étapes de traitement ultérieures et améliorer l'efficacité de la production
Traceur : utilisez le modèle pour numériser pour le traitement de finalisation ultérieur
Outil de positionnement de caméra CCD : le positionnement de caméra industrielle est utilisé pour réaliser le positionnement et la découpe automatiques de la vision industrielle
Outil de découpe demi-couteau : adapté à la découpe demi-couteau d'autocollants autocollants
Outil de coupe de rainures en forme de V : Le système de coupe en forme de V peut couper 4 types de rainures en forme de V à différents angles, y compris 45°30°22,5°15°, etc.
Outil de fraisage : adapté à la coupe de matériaux durs tels que l'acrylique, le bois composite, le pvc, etc.
Paramètre technique:
Vibrating knife full cut, semi-cutting cut, indentation, drawing mark, cursor positioning, camera positioning edge cutting, high power active round knife

Safety devices use infrared sensing, safe and reliable

≤50mm Other thicknesses can be customized according to the material

Glass fiber, glass fiber cotton, prepreg, carbon fiber, carbon fiber felt, boron fiber, aramid fiber, ceramic fiber, soft glass,PVC, leather leather, sponge composite skin, XPE material, wire ring, leather, soft glass , silicone, rubber material etc composite soft material

Vacuum partition adsorption

Yaskawa servo motor, linear linear guide, timing belt, lead screw

380V±10%/220V±10% Optional

Chinese and English LCD touch screen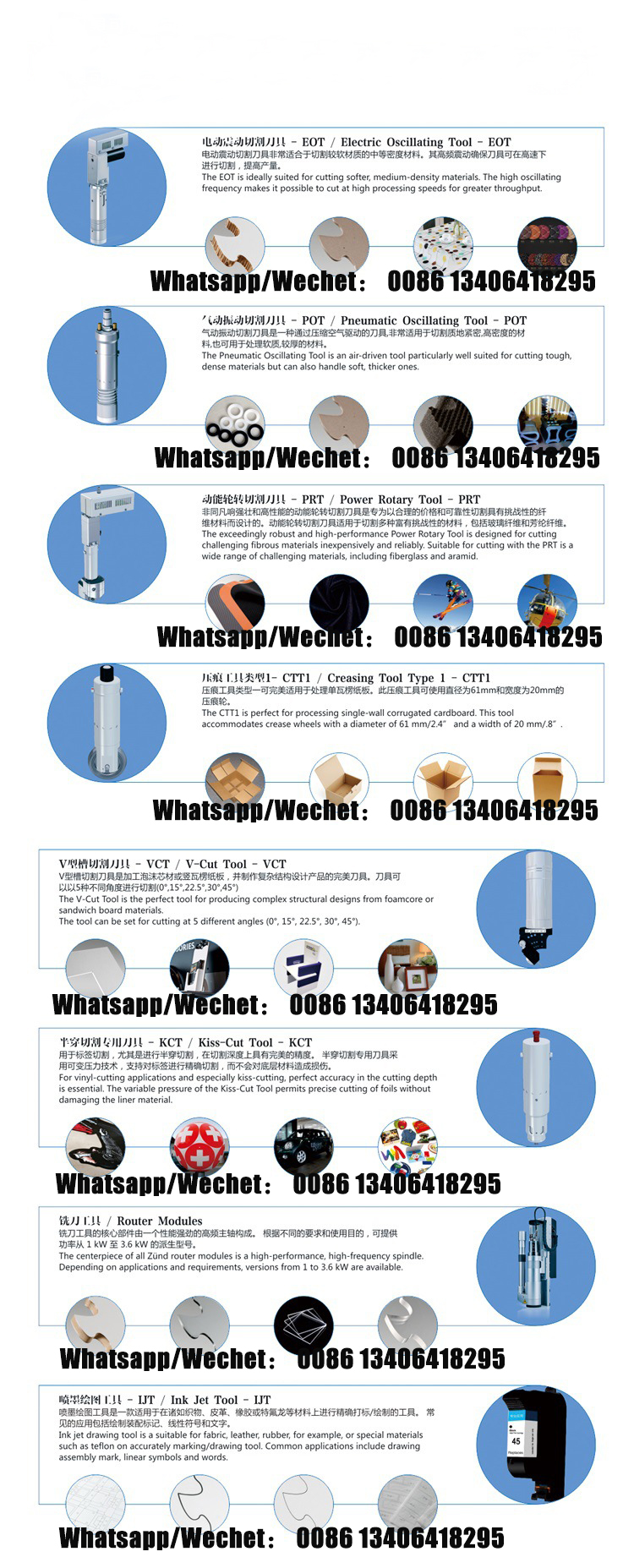 Avantage:
1. Configuration de tête diversifiée
Combinez librement des pièces à main standard en fonction des différents besoins de l'industrie et répondez aux exigences de production et de traitement
2. Conception ergonomique
Le tube carré de 6 mm est soudé à haute température et la structure du châssis de l'ensemble de la machine est renforcée pour rendre l'équipement plus stable et la conception plus ergonomique.
3. Dispositif de sécurité
Le dispositif de sécurité assure une sécurité maximale de l'opérateur lors des mouvements à grande vitesse, et le dispositif de détection automatique infrarouge évite efficacement la perte de matériaux de coupe.
4. Système de composition automatique
Le système peut générer automatiquement et automatiquement un écran de marqueur optimisé sur l'ordinateur en fonction de la largeur définie par l'utilisateur et du nombre d'échantillons.
5. Système de câblage scientifique
Le système de circuit simple et scientifique peut améliorer efficacement la stabilité du circuit, assurer la mise à niveau des produits ultérieurs plus pratique et également augmenter l'extensibilité de l'équipement.

Matériaux applicables :
Cuir, carton, boîte en plastique, fibre de verre, fibre de carbone, papier nid d'abeille, carton ondulé, autocollant, film, panneau de mousse, panneau acrylique, caoutchouc, matériau de joint, tissu de vêtement, matériau de chaussure, matériaux de sacs, tissus non tissés, tapis, éponge, PU, ​​EVA, XPE, PVC, PP, PE, PTFE, ETFE et composites.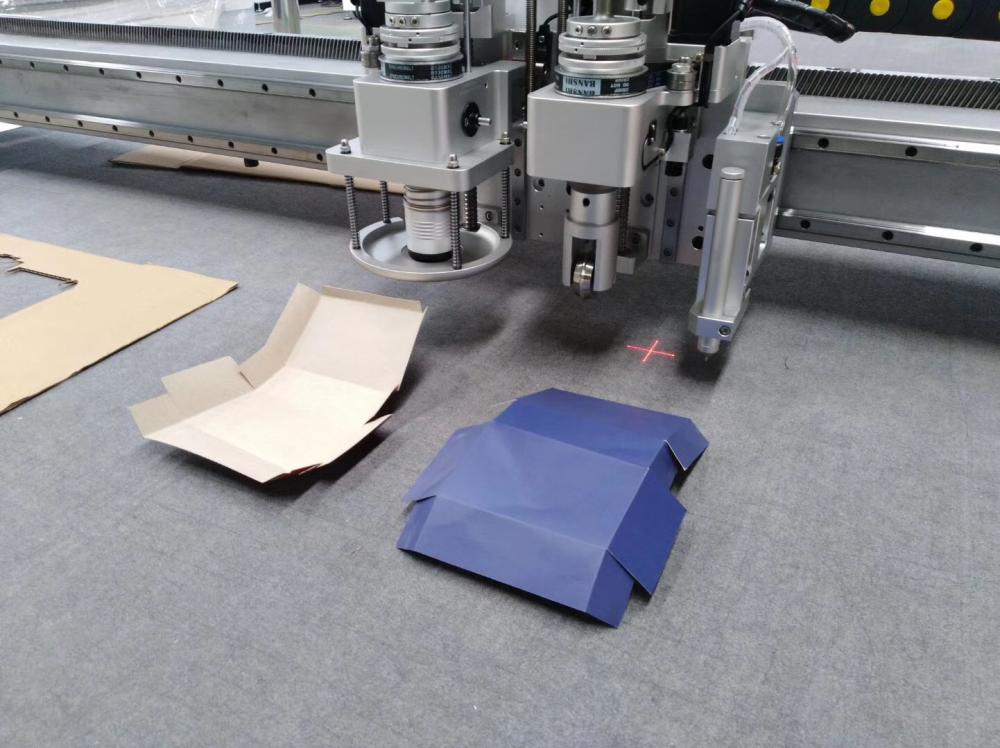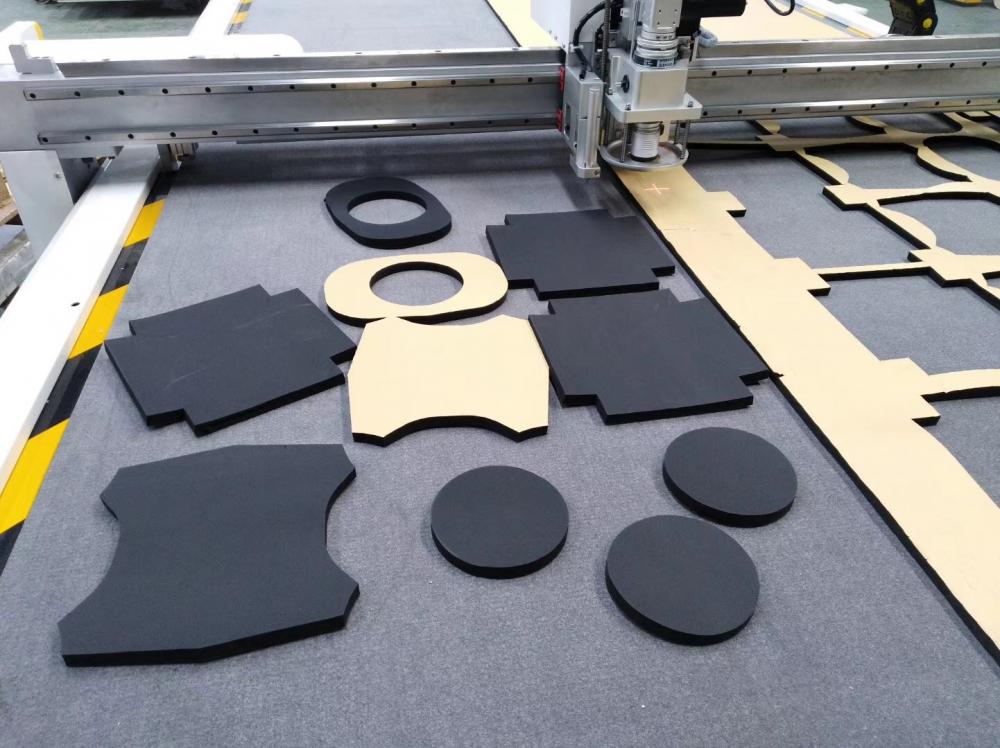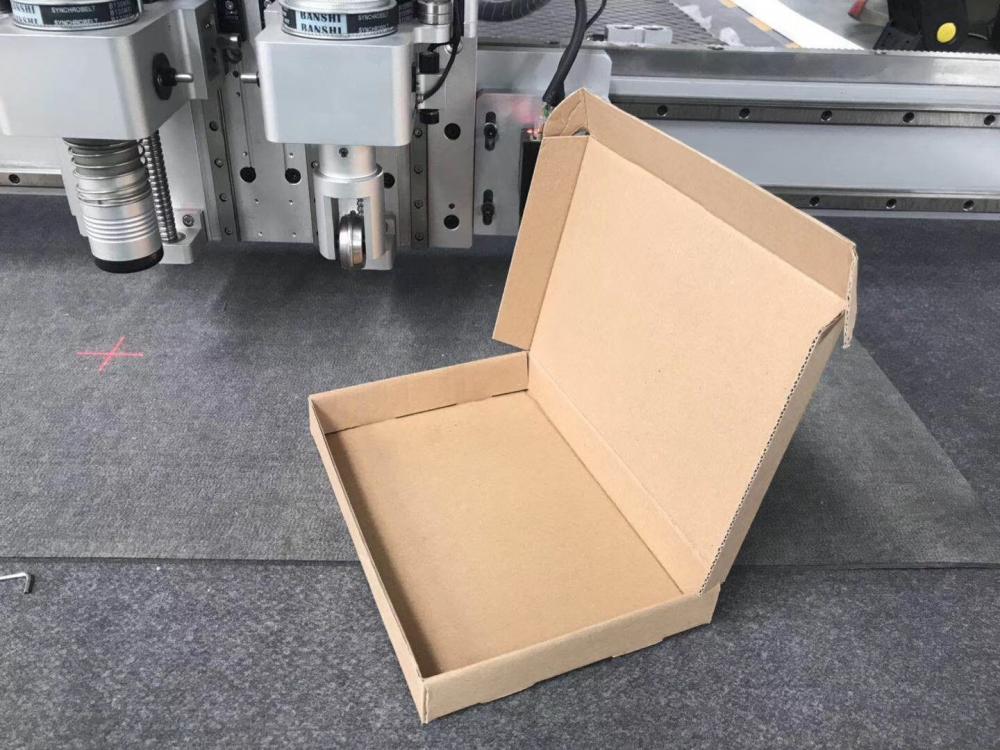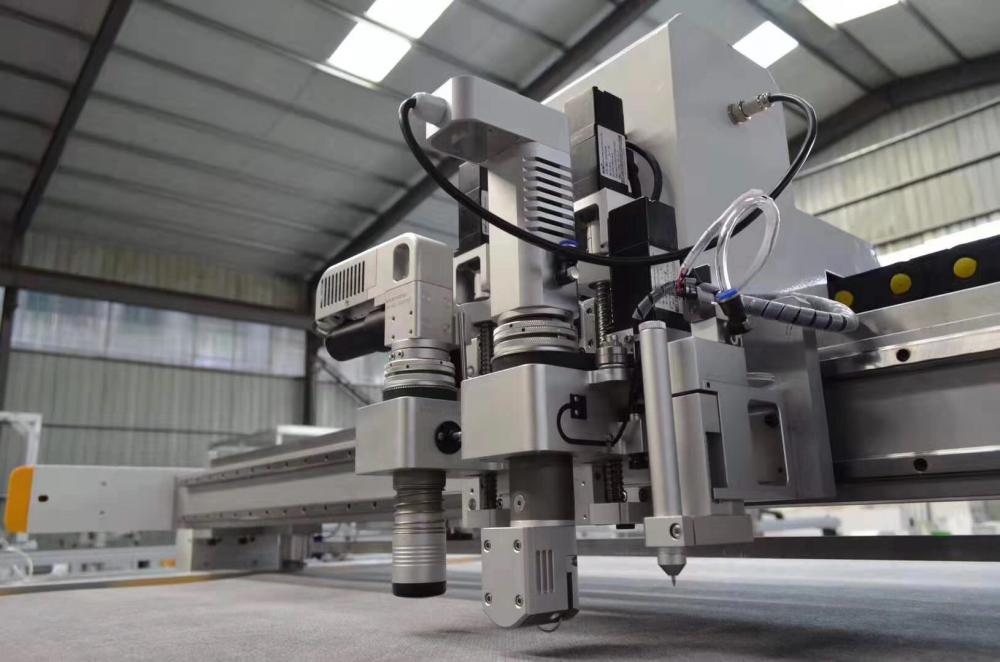 Secteur d'activité concerné :


1. Textile de maison : peut fournir des solutions intégrées de coupe personnalisées selon l'industrie du textile de maison, qui peuvent non seulement améliorer considérablement le taux d'utilisation et l'efficacité de traitement des tissus dans l'industrie de la maison pendant le processus de coupe, mais également améliorer efficacement la qualité du produit et atteindre haute efficacité. Faible consommation de consommables, haute qualité et optimisation complète
2. Textile et vêtements : le système de coupe est conçu pour les vêtements de marque, la confection de vêtements personnalisés haut de gamme et a développé un système de correction automatique pour résoudre
3. Matériau composite : le système de coupe remplace la version peinte à la main du processus de fabrication de produits composites, la coupe manuelle et d'autres processus traditionnels, en particulier pour les échantillons complexes tels que les modèles irréguliers hétérogènes, améliorant considérablement l'efficacité de la production et la précision de la coupe.
4. Intérieur automobile : système pour différentes exigences de coupe de l'industrie de l'intérieur automobile, différents matériaux de coupe ont proposé une solution intégrée de coupe à couverture complète, des produits de coupe comprenant un coussin de pied entièrement fermé, un grand coussin de pied environnant, un coussin de pied à anneau métallique, une housse de siège de voiture et autres tissus souples
5. Emballage publicitaire: La découpe du système fournit une solution complète pour l'industrie de la publicité, particulièrement adaptée au papier PP, au carton KT, au carton Chevron, au papier auto-adhésif, ondulé, au papier en nid d'abeille et à d'autres matériaux, et peut être équipé d'une vitesse élevée fraise pour acrylique Traitement de matériaux en papier dur


FAQ:
Q: êtes-vous une usine ou une société commerciale?
A: nous sommes usine et nous avons des droits d'importation et d'exportation, il y a beaucoup de clients qui viennent ici pour visiter notre usine chaque année, vous êtes invités à venir dans notre usine à tout moment machine de découpe de tissu de couteau
Q : Comment juger si cette machine de découpe me convient ou non ? machine à découper le tissu
A: Tout d'abord, vous devez partager quelque chose sur le matériau (L*W*H, respirant ou non) à traiter et d'autres exigences spécifiques, telles que la fonction de dessin supplémentaire, la fonction de perforation, etc. Nous porterons un premier jugement sur la base de notre expérience. Si nécessaire, nous réaliserons une découpe de démonstration pour vous, puis nous partagerons la vidéo avec vous et discuterons de la solution possible.
Q : C'est la première fois que j'utilise ce genre de machine, est-ce facile à utiliser ?
A: nous vous enverrons un manuel et une vidéo de guidage en anglais, il peut vous apprendre à utiliser la machine. Si vous ne pouvez toujours pas apprendre à l'utiliser, nous pouvons parler par téléphone, e-mail ou d'autres moyens de contact.
Q : Quelle est la garantie et la qualité de cette machine ?
A: Garantie normalement 1-3 ans, consommable sauf. Pendant la période de garantie, tous les accessoires ou pièces endommagés seront remplacés gratuitement par nos soins. Nous sommes fabricant de machines en chine depuis plus de 10 ans, nos machines sont des ingénieurs et des concepteurs seniors développés, nous prenons en compte un aspect lors de l'utilisation, si rarement un problème de qualité apparaît, c'est pourquoi nous pouvons garantir aux clients une garantie de 1 an.
Q : Quels sont les conditions de prix et de paiement ?
A : EXW, CIF, FOB nous pouvons tous accepter le paiement : TT/Paypay/LC/Western Union.etc
Q: délai de livraison
A: une petite machine sera livrée dans un délai de 1 jour, une grande machine sera livrée dans un délai de 3 à 5 jours
Q : Où est située votre usine ? Comment puis-je m'y rendre ?
A: notre usine est basée à jinan, province du shandong, chine. Vous pouvez prendre l'avion pour Pékin, Jinan ou Qingdao. Nous pouvons venir vous chercher à la gare aérienne ou à la gare.
Q : Existe-t-il un service après-vente ?
R : Nous avons intégré le service après-vente. Outre nos propres ingénieurs expérimentés, nous offrons également un service après-vente local grâce à l'aide de nos agents. Tout cela vous rendra pratique.
Jinan Jing Xun Cnc Equipment Co., Ltd
Corporate culture: focus on quality, focus on service, and create value for users wholeheartedly.
Corporate philosophy: customer-centric, struggling-oriented.
Enterprise innovation: technological innovation, product innovation, service innovation, concept innovation, and management innovation.
Enterprise core competitiveness: product leadership, innovation-driven, collaborative services.
Corporate vision: Let users feel at ease, let employees be happy, and make operations sustainable.
Since its establishment, Jinan Jingxun CNC Equipment Co., Ltd. has adhered to the core values ??of independent research and development, innovation and entrepreneurship, honesty and pragmatism, adhering to the work philosophy of professionalism, focus, and research, in-depth understanding of customer demands and opinions, continuous innovation of products, and high-tech and Efficient management creates economic benefits, and is committed to becoming a company that provides excellent services to customers and creates rich returns.
We are an enterprise focusing on the development, manufacturing and production software development and application of automated CNC equipment. Relying on the company's independent research and development capabilities, we have independently developed CNC drilling and milling engraving machines, CNC panel furniture cutting machine production lines, and CNC metal laser cutting machines. , CNC non-metal laser cutting machine and other series of products, relying on independent research and development products to accumulate customer base.
The main classification of CNC engraving machine: woodworking engraving machine, tombstone engraving machine, laser engraving machine, advertising engraving machine, jade engraving machine, stone engraving machine, cylindrical engraving machine, mold engraving machine, micro engraving machine, circuit board engraving machine, metal engraving machine, glass engraving machine, five-axis machining center, large Non-standard numerical control equipment and other products.
Our customer groups cover: advertising industry, craft industry, mold industry, electronics industry, construction industry, printing and packaging industry, wood industry, decoration industry, tombstone industry, crystal products, copper and aluminum door flower carving, aluminum villa door carving, car model , Ceramic bathroom, large-scale exterior wall aluminum veneer cutting, hardware molds, plastic molds, hand mold engraving, fixtures, fixtures and fixtures, woodworking, wooden doors, stone lettering, ceramic tile background wall engraving and other industries.
We focus on building smart factories in the furniture industry. Our products include panel-type furniture smart factories, whole-plant information software, control systems, CNC cutting machines, automatic computer panel saw series products, automatic linear edge banding machine series products, CNC Drilling series products, six-sided drills, a full range of five-axis three-dimensional machining centers, various heavy-duty high-speed cutting machines, straight-line cutting machines, disc cutting machines, automatic labeling drilling cutting centers, custom cabinets A professional manufacturer of woodworking CNC machining center products such as intelligent hole feeder, cabinet intelligent connection, cabinet closet molded door line, multiple six-sided drill cutting machine connection, production process planning and design, solid wood assembly processing center, etc.
Woodworking machinery and equipment such as machining centers of different specifications and models such as four-process cutting machines.
The main uses of laser processing technology are divided into three types: laser cutting, laser engraving, and laser welding. The main application machines on the market are
Laser cutting machine, metal laser cutting machine, fiber laser cutting machine, CNC laser cutting machine, laser marking machine, laser welding machine and a series of products
Suitable for high-precision cutting of various metal materials such as stainless steel, carbon steel, brass copper alloy steel, silicon steel, spring steel, aluminum, aluminum alloy, galvanized sheet, galvanized sheet, pickling sheet, titanium and other metal plates and pipes .
Fiber laser cutting machines are used in sheet metal processing, environmental protection equipment, chassis, electric cabinets, agricultural machinery, kitchenware and bathroom, auto parts, sports equipment, lighting lamps, metal crafts, fans, electrical parts, communication equipment, food machinery, logistics equipment, hardware, Doors and windows, advertising sign production, mechanical parts, automobiles, machinery, metal crafts, saw blades, electrical parts, glasses industry, springs, circuit boards, electric kettles, medical microelectronics, knife measuring tools and other industries.
We are one of the few manufacturers in the world that can carry out professional smart factory whole-plant planning and provide relevant complete sets of equipment and software, and incorporate customization into large-scale production. Our technology can help you quickly transform ideas and designs into products in a simpler way, with lower investment and less time, improve your industrial automation level, get rid of the dependence on skilled workers, and effectively improve management efficiency And production efficiency.
professional service
Our quality standard positioning is synchronized with Europe and the United States. The product accessories adopt international brand parts, international brand configuration, stable performance, Japanese guide rail: three-layer dustproof, self-lubricating slider device, ensuring the machine runs 5000 kilometers without maintenance
German rack: stable transmission, low noise, large transmission torque, Japanese reducer: low noise, high transmission accuracy, German vacuum pump, French electrical components, Italian spindle, row drill,
Cooperate with global advanced CNC machinery operating system manufacturers: Japan FANUC Germany SIEMENS Taiwan SYNTEC Taiwan LNC US MACH3 China NCSTUDIO China FSCUT Fiber laser cutting control systerm.
Product advantages
We are one of the few companies in the world that use CNC machining equipment to process all mechanical parts. Strict production process: from the selection of raw materials, welding and casting, shot blasting, heat treatment annealing, stress relief, pickling, phosphating, precision machining, the large gantry machining center performs milling and numerical control drilling on the guide rail table, rack surface, etc. A series of processes such as sheet metal production, spraying, assembly, inspection and calibration are all independently produced, and the basic accuracy of accessories is guaranteed through the above processing.
The entire process flow is strictly tested in accordance with the international assembly level to cooperate with the advanced processing and assembly technology, and there are strict process quality inspections, geometric accuracy testing: the inspection mode of metal processing machine tools is used in the industry to ensure that the machine tools meet the accuracy requirements.
Position accuracy detection: to ensure that the diagonal error of the processed object is smaller and the surface of the object is smooth. Machine tool inspection: Simulate the operation of the machine tool to further ensure the state of the machine tool. Through rigorous triple inspection, the machine has stable performance and high processing accuracy after leaving the factory, which is trusted by customers.
We are committed to providing users with stable and reliable equipment under long-term industrial use. The company has established agents in many countries and regions around the world, and our products are exported to more than 100 countries and regions Asia Afghanistan Bangladesh Brunei Cambodia DPRK (Democratic People's Republic of Korea) India Indonesia Japan Laos
Malaysia Maldives Mongolia Myanmar Nepal Pakistan Philippines ROK(Republic of Korea) Singapore Sri Lanka Thailand Timor-Leste Vietnam
Western Asia and North Africa Algeria Bahrain Egypt Iran Iraq Israel Jordan Kuwait Lebanon Libya Mauritania Morocco Oman Palestine Qatar Saudi Arabia South Sudan
Sudan Syria Tunisia Turkey UAE(United Arab Emirates) Yemen
Africa Angola Benin Botswana Burundi Cape Verde Comoros The Central African Republic Cameroon Congo Congo(Kinshasa) Cote d'lvoire Chad Djibouti Equatorial Guinea
Eritrea Ethiopia Gabon Gambia Ghana Guinea Guinea Bissau Kenya Lesotho Liberia Madagascar Malawi Mali Mauritius Mozambique Namibia Niger Nigeria Rwanda
Sao Tome and Principe Senegal Seychelles Sierra Leone Somalia
South Africa Tanzania Togo Uganda Zambia Zimbabwe
the European and Central Asian Region Armenia Azerbaijan Belarus Georgia Kazakstan Kyrgyzstan Moldova Russia Tajikistan Turkmenistan Ukraine Uzbekistan
the European Region Albania Andorra Austria Belgium Bosnia and Herzegovina Bulgaria Croatia Cyprus Czech Denmark
European Union Estonia Finland France Germany Greece Hungary Iceland Ireland Italy Latvia Liechtenstein Lithuania Luxembourg Malta Monaco Montenegro
Netherlands North Macedonia Norway Poland Portugal Romania San Marino Serbia Slovakia Slovenia Spain Sweden Switzerland United Kingdom
North America and Oceania Australia Canada Cook Islands Fiji Micronesia Niue New Zealand Papua New Guinea Samoa Tonga United States of America Vanuatu
Latin America Antigua and Barbuda Argentina Bahamas Barbados Bolivia Brazil Costa Rica Chile Colombia Cuba Dominica Dominican Republic Ecuador Grenada
Guyana Jamaica Mexico Panama Peru Suriname Trinidad and Tobago Uruguay Venezuela.
.
After 10 years of accumulation, we have obtained a number of product and technology authorized patents. The products have obtained European joint CE certification, US FDA certification, and passed ISO 9001 certification. They have a number of scientific research achievements, and have a number of invention patents and utility model patents.
We provide professional services. From product positioning and equipment manufacturing, our strength is outstanding, because we work harder and attentively, we spend more time communicating with customers` needs, and devote more energy to the design and design of each equipment manufacture
With many years of experience, we have many years of experience in the production of CNC equipment, serving thousands of companies, and rich experience in production and manufacturing. We use better technical services to ensure the safety and stability of each equipment, and solve every problem with more mature solutions.
service and support
In the early stage, the professional sales team will customize cost-effective production solutions for you.
In the mid-term, software and hardware pre-installation preparation, complete machine assembly, precision adjustment, software training, production and maintenance guidance.
In the later period, free operation training, regular customer return visits, and maintenance response time does not exceed 24 hours.
Free installation and debugging of new equipment, professional operation, use and maintenance training, complete equipment after-sales service system and training mechanism, free remote technical guidance and online Q&A, and 7 days * 24 hours local after-sales service response to ensure that Eliminate related problems in the operation of the equipment in a short time, provide professional and systematic training services to the factory, software use, equipment use, maintenance, common fault handling, etc., the whole equipment is guaranteed for one year under normal use and enjoy life-long maintenance services. Provide value-added services such as equipment function optimization, structural changes, software upgrades, and accessory supply
Packaging & Shipping & Payment
1) Packaging:
Whole film packaging machine;Anti-collision package edge;Fumigation-free plywood wooden box and pallets with iron binding belt.
2)Shipping:
We cooperate with SINOTRANS company whose experience in the ocean transportation will guarantee your machine safety.We also provide train transport, especially to Russia, Ukraine and other inland countries.
3) Payment:
We support T/T, L/C, VISA, Mastercard payment terms.
Warranty and Service
1.Guarantee for 1 years.
2.Maintenance free of charge for 1 years.
3.We will provide the consumable parts at an agency price.
4.24 hours online service, free technical support.
5.Machine has been adjusted before delivery, operation disk is included in the delivery.If there is any other questions, pls kindly tell me.
6.We have manual instruction and CD (Guiding Videos) for software Installation, operation and machine's using and maintenance.
Nom de la compagnie: Jinan Jing Xun Cnc Equipment Co., Ltd
représentant: Niancheng Jiao
Produit / Service: CNC Router , Atc CNC Router , Wood CNC Router , Laser Cutting Machine , Fiber Laser Cutting Machine , Plasma Cutter
Capital: US$5 Million
Année d'Etablissement: 2008
Volume total annuel des ventes (en millions de US $): US$2.5 Million - US$5 Million
Pourcentage des exportations: 51% - 60%
Total volume d'achat annuel (en millions de US $): US$1 Million - US$2.5 Million
Nombre de Lignes de Production: 5
NombrNombre du Personnel de R&e du Personnel de R&D: 11 -20 People
Nombre du Personnel de QC: 5 -10 People
Service d'OEM fourni: yes
Superficie de l'Usine (mètre carré): 30,000-50,000 square meters
Adresse de l'Usine: Caiyuan Industrial Park, Licheng District, Jinan City, Shandong Province
Personne À Contacter: Mr. jiao nian cheng
Numéro De Téléphone: 86-0086-13406418295